It's been over two years since I've shared my skincare routine on my blog. Time sure flies! I thought right now would be an appropriate time to share my new skincare routine since a lot has changed in my routine and also my life.
Last year, for the first time ever, I was diagnosed with allergic rhinitis; also commonly known as hay fever. This diagnosis/change in my immune system kind of altered my life since my symptoms were and still are severe especially during the spring and summer months.
Soon after, I also realized many skincare products I was using were irritating my skin. I started to get red and sometimes itchy patches and breakouts from products that had worked so well for me just months before. After I noticed these changes, I knew that it was time to make a change in my overall routine.
One thing that has not changed is my skin type, dry skin in the winter months, and dry/combination skin in the summer months. Please keep this mind when reading through product recommendations below.
What is the definition of Sensitive Skin?
First, let's talk about the definition of sensitive skin. Sensitive skin refers to a wide range of skin conditions such as rosacea and eczema to the skin's inflammatory response to external stimuli such as an allergen. All in all, sensitive skin is when skin negatively reacts to stimuli that should not provoke a negative sensation or reaction.
Many of us have had adverse reactions to certain products from time to time. Nevertheless, people that have consistent irritated skin when using a particular product or when coming in contact with an external irritant are the people that genuinely have sensitive skin.
What Causes Sensitive Skin
So, what truly causes sensitive/ reactive skin? Many factors contribute to sensitive skin—environmental factors such as cold and hot temperatures.
Allergic contact dermatitis is also another cause of sensitive skin. Allergic contact dermatitis is when you develop a skin rash caused by contact with a particular substance. The substance might irritate the skin or trigger an allergic reaction. Some common culprits include soap, cosmetics, fragrances, and even jewelry [1].
In my case, I was diagnosed with allergic contact dermatitis due to fragrances in my skincare products that triggered an allergic reaction. From there, it was recommended for me to try to eliminate any products in my routine that contained any synthetic fragrances.
Unfortunately, I had been using a lot of products that contained synthetic fragrances, so I had to change out most of the products I was using besides my SPF and eye cream, which already did not contain any synthetic fragrances. Here is my new fragrance-free skincare routine:
Cleansers/Make-Up Remover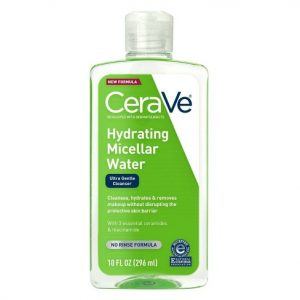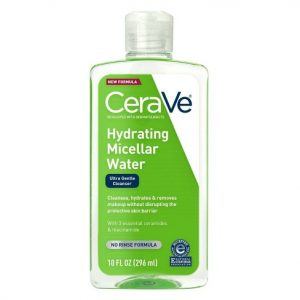 First things first, I start my routine each morning and each night with cleansing my face with micellar water. For those that are not familiar with micellar water, it is a gentle water cleanser used to remove excess oil, dirt, and make-up. The specific one I use is the Cerave Hydrating Micellar Water. This product is formulated with ceramides and niacinamide; ceramides help restore and maintain the skin's natural barrier, and niacinamide aids in calming the skin. This product is also fragrance-free, paraben-free, and non-comedogenic, which means that it will not clog your pores.
Another incredible claim for this product is that you don't have to rinse your face after using it. Although this is such an exciting claim, most dermatologists would agree that following up with a gentle foaming/clarifying cleanser is ideal, especially when removing make-up.
After reading about this product and seeing the outstanding reviews, I decided to purchase this product. I was instantly impressed with how easily my make-up came off, and my sensitive eyes were not irritated at all!
This product is Ophthalmologist-tested, which makes it suitable even for the most sensitive eyes. Also, my skin did not feel dry or tight after cleansing, making the hydrating claim for this product correct.
Lastly, the best part about this product is that it is affordable and can be found at most local drug stores!
How to Use Micellar Water
You might be wondering how to use micellar water since it's not your typical cleanser. First, wet a cotton pad with the product. When removing eye make-up, hold the cotton pad over the closed eye for a few seconds, then gently wipe eye make-up off without rubbing harshly. When removing face make-up, gently wipe cotton pad over skin until completely free of make-up[2].
Face Wash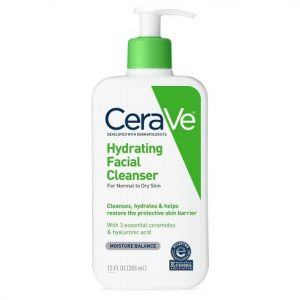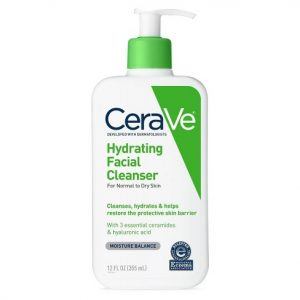 On days when I wear make-up, I first wet a reusable cotton pad with micellar water and gently wipe away any make-up left at the end of the day, focusing on gently removing my eye make-up. Personally, my under-eye area is really sensitive, and I am only able to use micellar water or unscented cleansing oil to remove any eye make-up.
As for face wash, the CeraVe Hydrating Facial Cleanser is an excellent cleanser for sensitive and dry skin. As with most CeraVe products, this product is fragrance-free. It is also formulated with vital ceramides used to restore the skin's barrier and hydrating hyaluronic acid, used to attract hydration back to the skin surface.
Something impressive that I noticed about this cleanser is that it does not dry out and strip your skin of its natural oils, but it still effectively removes all my face make-up and any other impurities. This product can also be found at most drugstores and on dermstore.com.
Toner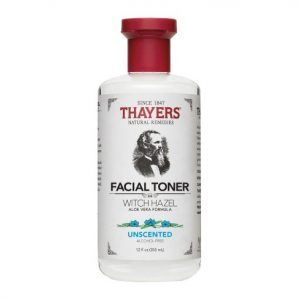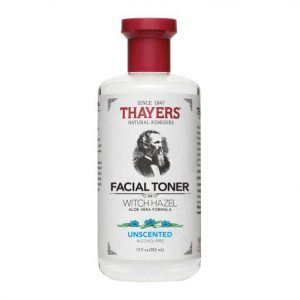 The great thing about micellar water is that it can be used as a toner as well. I practically use the same micellar water for cleansing and toning on days that I don't wear any make-up.
Another great toner I've used in the past that is ideal for sensitive skin is the Thayers Unscented Face Toner. This product is formulated with organic witch hazel, which is used as an astringent. An astringent is an ingredient used to contract skin cells, thereby shrinking skin pores, one of the many purposes of a toner [3].
This product is also formulated with aloe vera and glycerin, which are moisturizing and calming ingredients. Lastly, this product is also alcohol-free, paraben-free, phthalate-free, gluten-free, dye-free, and of course fragrance-free! It is also affordable and available at most drug stores.
Why Should You Use a Facial Toner?
You might be wondering what the purpose of a toner is? The overall objective of a toner is to balance the pH level of the skin after cleansing, hydrate, and prep skin for a serum or a moisturizer [4].
Daily Moisturizer
In terms of a daily moisturizer, I practically like the CeraVe daily moisturizing lotion for the face and body. This product is non-comedogenic, hypoallergenic, oil-free, and fragrance-free, and it is formulated with once again, hyaluronic acid and ceramides as most CeraVe products! I love how this product is super lightweight on the skin but still extremely hydrating at the same time!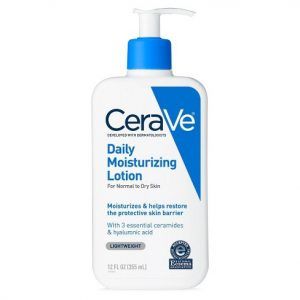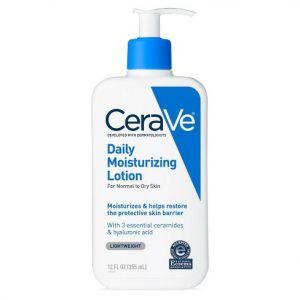 I practically like to use this product on my face on days that I know that I will be mostly home since this product doesn't have SPF in it. Now, on to some of my favorite sunscreen products! I know that may not seem like such an exciting thing to talk about in a skincare routine, but I am a sunscreen lover and have seen the most difference in my skin over the years because of it!
Sunscreen
The sunscreen I have been using is one that I've mentioned before on my blog, which is the Supergoop Play Everyday SPF 50. I've been using this sunscreen for about three years now, and it is hands down my favorite sunscreen!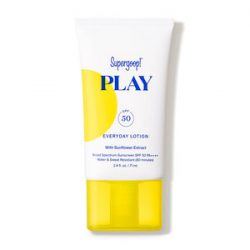 This product is oil-free, cruelty-free, paraben-free, and it is formulated with essential oils that do not irritate my skin like synthetic fragrances. This product is sensitive enough for me to use it around my eyes without any stinging, which is a huge plus since it is vital to use SPF around the delicate skin around the eyes to protect that area from any sun damage.
If you are sensitive to essential oils, the Elta MD UV Clear Broad-Spectrum SPF 46 is entirely fragrance-free, and it's an incredible product that I have also used and loved. I personally prefer the Supergoop product more because I find it to be more hydrating for my skin type.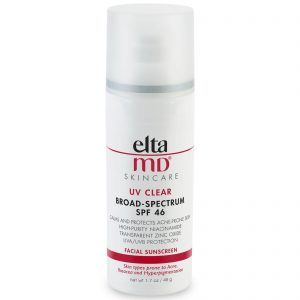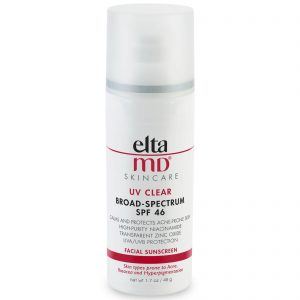 This product is well-known amongst dermatologists, bloggers, and just people that love skincare. Many people love the fact that although this is a mineral sunscreen, it does not leave a white cast behind as many mineral SPF products do, making it an SPF that is friendly for most skin colors and skin types.
This SPF is also phthalate-free, non-comedogenic, paraben-free, cruelty-free, sulfate-free, dermatologist approved, and oil-free.
Eye Cream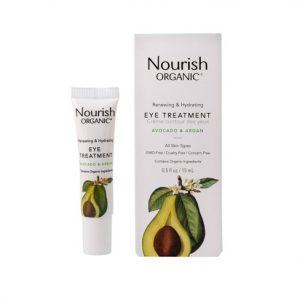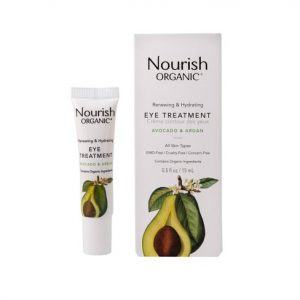 The skin around the eye area is the thinnest and some gentle skin in the human body. It is also the most prone to premature aging. This is why it is essential to use the most gentle products around this area.
I have always been sensitive to eye care products containing synthetic fragrances, which is why I sought out fragrance-free eye care products at an early age. One of my all-time favorite eye cream products is the Nourish Organic Renewing & Hydrating eye cream. This product is formulated with organic and hydrating ingredients such as avocado and argan oils and a brightening ingredient, vitamin C. It is also paraben-free, cruelty-free, and synthetic fragrance-free.
What I love most about this eye cream is that although the formula is very rich and hydrating, it still soaks into the skin so effortlessly and quickly.
Serum
I am currently not using a serum because I haven't found a serum for sensitive skin that I love. Please comment below with any suggestions!
What is the purpose of a serum?
You might be wondering what the ultimate purpose of a serum is and if it is a necessity in skincare. The goal of a serum is to apply powerful ingredients directly to the skin. Most of the time, serums contain anti-aging ingredients such as vitamin C and retinol depending on the serum, which aid in brightening and anti-aging. Additionally, serums are usually not formulated with moisturizing ingredients such as oils, as most creams and lotions. Serums are typically formulated with a water-based formulation [5].
Is a Serum Necessary in a Skin Care Routine?
Most dermatologists would agree that a serum is a necessity in a skincare routine, especially if you are using a serum with powerful anti-aging ingredients [6].
CeraVe Renewing Vitamin C Serum
Lastly, although I haven't tried a serum that I can stand by, I heard great things about the CeraVe Renewing Vitamin C Face Serum With Hyaluronic Acid. Again, I haven't tried this serum yet, but I will have to try it out!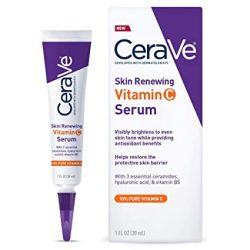 This product is formulated with vitamin c, which again is a brightening ingredient, and with hyaluronic acid, a hydrating ingredient. It is also fragrance-free, paraben-free, and non-comedogenic.
Night Cream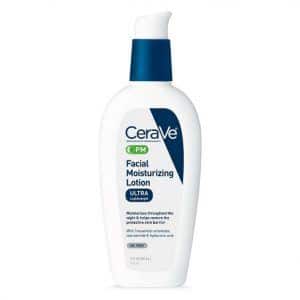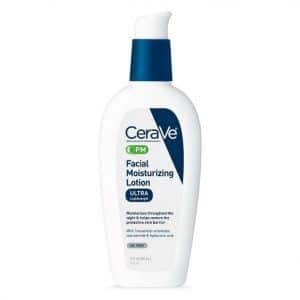 The night cream that I have recently been loving is the CeraVe PM Facial Moisturizing Lotion. This product is formulated with essential barrier-strengthening ceramides, hydrating hyaluronic acid, and soothing niacinamide. Lastly, it is fragrance-free and ultra-lightweight. This product is one of my favorite finds for this year. I love how incredibly hydrating this product is and how at the same time, it is a lighter night cream than other night creams, but it does not fail to moisturize my skin.
Please note that I am no skincare expert and that the above information and recommendations are based on my own research and what I truly have found works best for my skin. I know that people can have sensitivities to other ingredients in skincare products and that fragrances are not the only culprits. So far, I have found that eliminating synthetic fragrances has truly helped my newly sensitive skin.
If you also have sensitive skin, please comment below with your experiences and product recommendations below!
References:
cerave.com/skincare/cleansers/hydrating-micellar-water